Read Time
2 Minute, 28 Second
If you have ever copied or opened a Unix file in the Windows Notepad, you would have seen that the result is very ugly as all of the text appears as a mess on one line as Notepad does not recognize Linux End of Line (EOL) characters. This is all going to change soon, as Microsoft announced today that they are adding support for Unix & macOS EOL characters to Notepad in the latest Windows 10 Insider build.
In Microsoft's announcement, they showed an example of what a .bashrc file created in Linux would look like if you opened it into Notepad. Notice that when the file is opened it is a mess because Notepad does not recognize the Linux EOL characters.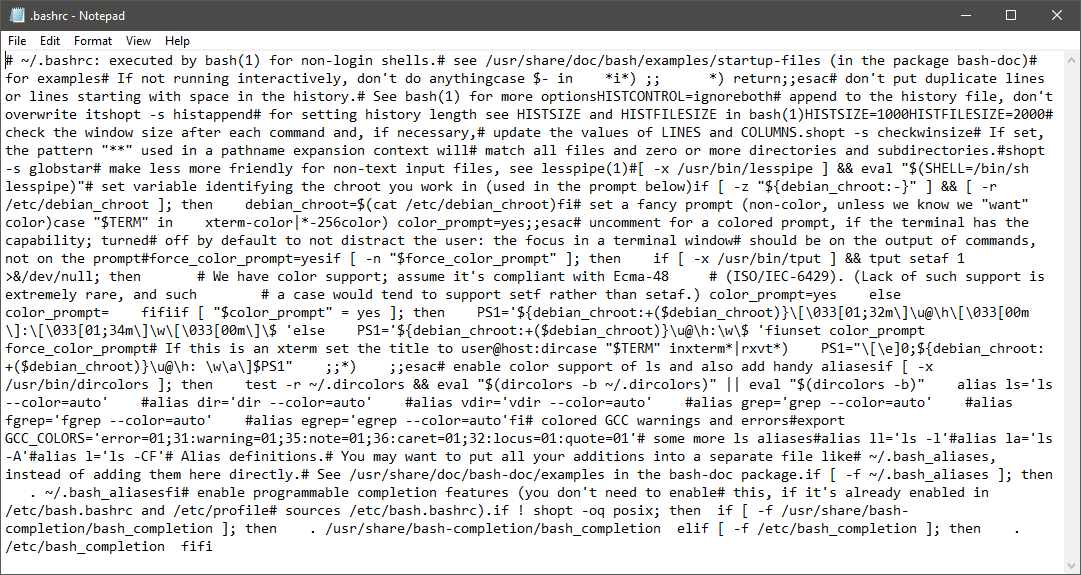 With the upcoming changes, Notepad will now recognize Unix and Linux carriage returns and line feeds. That means that Unix/Linux line endings (LF), Macintosh line endings (CR), and Windows Line endings (CRLF) will now display properly in Notepad and the above display would look properly as shown below.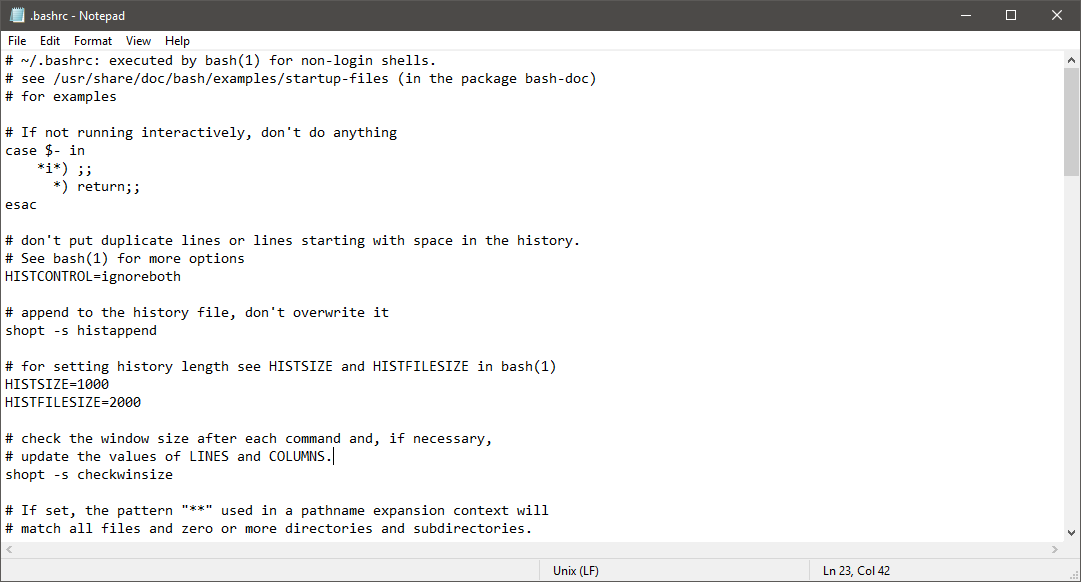 This new version of Notepad will also include an updated Status Bar that displays the type of EOL characters that were detected. For example, the above file is using LF EOL characters. Any new files created in Notepad will continue to use Windows CRLF EOL characters.
These new changes are going to be a boon for IT Pros, power users, and the enterprise who commonly install Notepad replacements like Notepad++ or Notepad 2 so that text files are displayed properly no matter where you created them.
There's always someone …
While I have no idea who would not want to support the wider range of EOL characters, Microsoft is adding a fallback setting to disable this new feature if you wish to use Notepad like it was originally designed. To facilitate this, Microsoft has added two new registry values under the HKEY_CURRENT_USER\Software\Microsoft\Notepad key.
These values are « fPasteOriginalEOL« , which controls how content is pasted into Notepad, and « fWindowsOnlyEOL« , which controls what type of line endings to use when you press the Return or Enter key on the keyboard.
More details about these new Registry values are below.
Value
Enabled Value
Disabled Value
fPasteOriginalEOL
Default: 0
0

Modifies the EOL character of the text being pasted into Notepad to the EOL character of the currently open document.

1

EOL characters in text pasted in Notepad are NOT modified.

fWindowsOnlyEOL
Default: 0
0

Insert the currently open document's detected EOL character when Return/Enter key is hit.

1

Force Windows CRLF line endings when Return/Enter key is hit.

In this mode, Notepad will behave as it always has done and will note correctly render Linux/Mac text files (see 1st screenshot above)