Read Time
4 Minute, 10 Second
Mozilla has announced a Shield study where Firefox will promote the ProtonVPN service as a new revenue source. BleepingComputer was able to gain access to the study's extension and it appears that the ProtonVPN will be recommended when visiting VPN provider sites, streaming services, or when connecting to insecure wireless gateways.
Mozilla is performing this study to test a new method of generating revenue for the organization. Currently the majority of the foundation's revenue is generated by royalties paid to them through search provider agreements. In the latest audited financial statement, these royalties generated over $500 million in 2016 and indicated that these agreements will expire in December 2019.
In order to diversify their revenue stream, Mozilla has decided to partner with the ProtonVPN VPN service as part of a revenue share agreement. Under this agreement, Firefox will recommend the VPN service, handle billing for the service, and pay ProtonVPN for each user who subscribes to the $10/month service. When asked, Mozilla decline to reveal what the revenue share percentages will be.
« ProtonVPN will be providing the service in this experiment. Mozilla will be the party collecting payment from Firefox users who decide to subscribe, » stated Mozilla's announcement. « The service will cost $10/month, which matches ProtonVPN's regular monthly price for their "Plus" plan. A portion of these proceeds will be shared with ProtonVPN, to offset their costs in operating the service, and a portion will go to Mozilla. In this way, subscribers will be directly supporting Mozilla while benefiting from one of the very best VPN services on the market today. »
While it is important that Mozilla creates new revenue streams, some may find it too aggressive to target VPN providers for the display of this promotion.
VPN Offer targeting VPN providers and streaming services
BleepingComputer was able to review the Shield study extension that is being used to promote the ProtonVPN service. When installed, this extension will be hidden by Firefox, but will display the ProtonVPN recommendation when visiting various sites as well as potentially random ones when browsing the web.
For example, if a user visits one of the 65 targeted VPN provider's domains, Firefox will display a recommendation that states « Make Firefox even more secure with ProtonVPN. »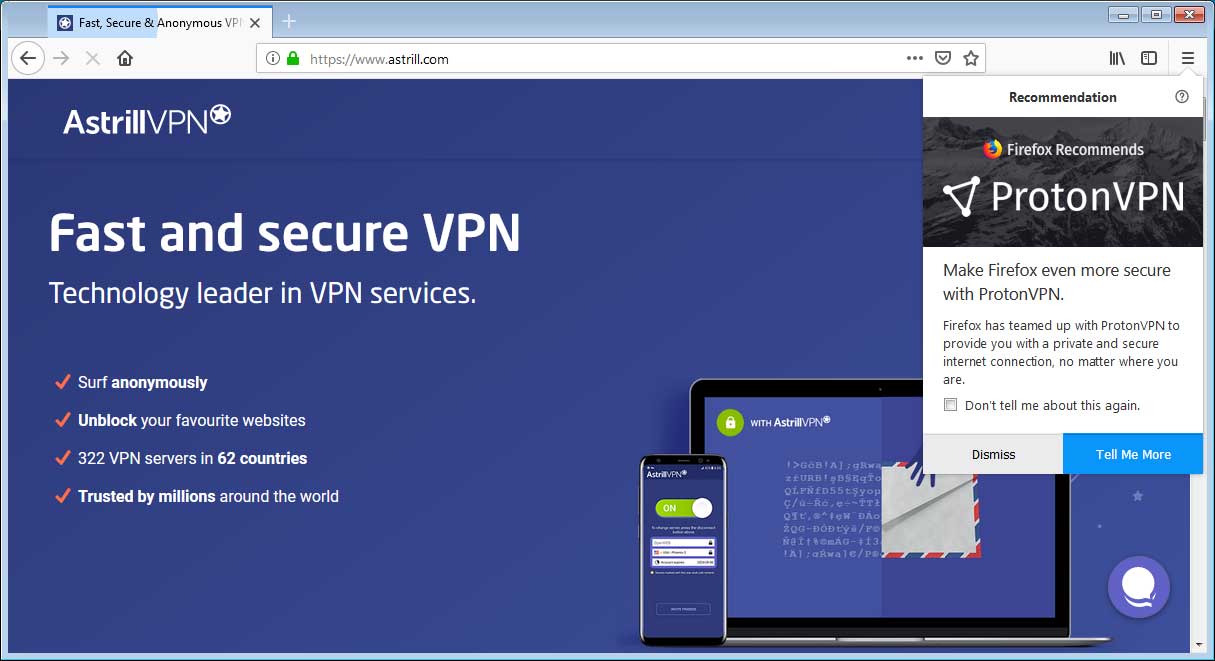 Below is a  list of some of the targeted VPN providers that will be shown the recommendation. These include NordVPN, Astrill, CyberGhost, WindScribe, IPVanish, Kaspersky, Avast, and many more.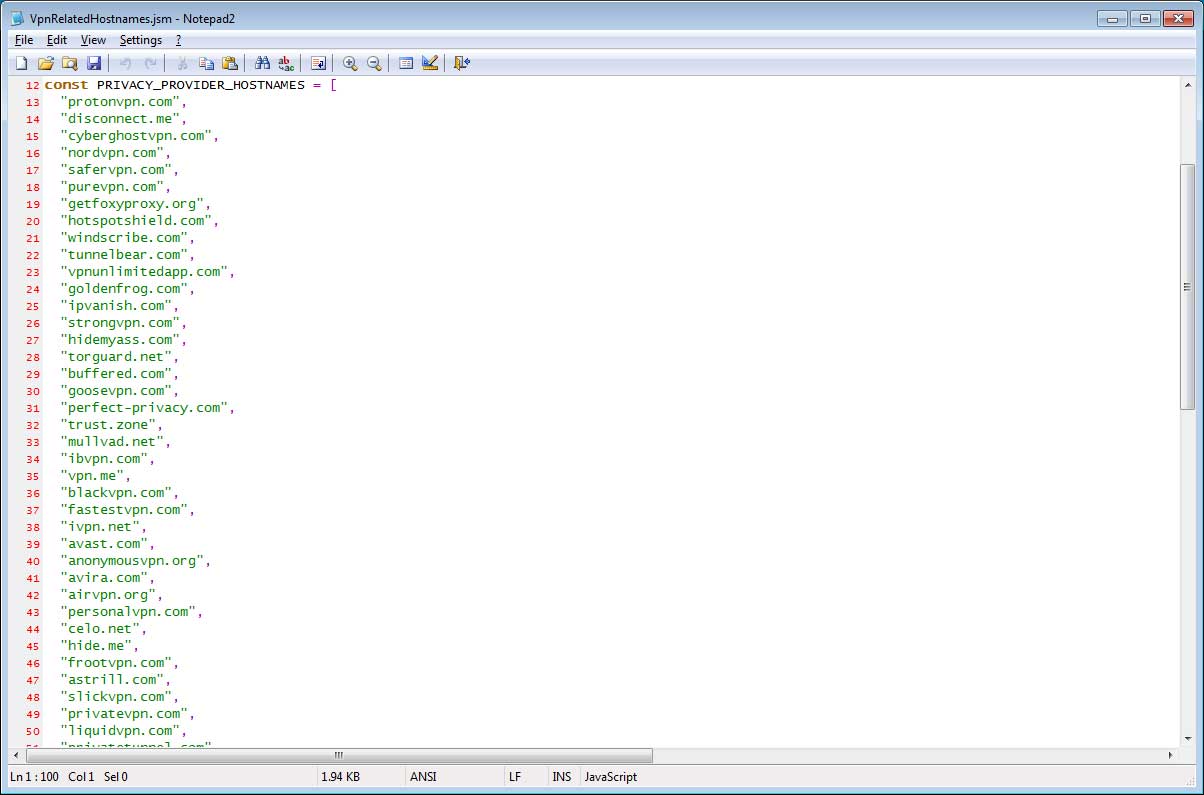 When visiting streaming sites such as Netflix, Hulu, YouTube, HBO, and twelve other sites, Firefox will also display a recommendation for ProtonVPN.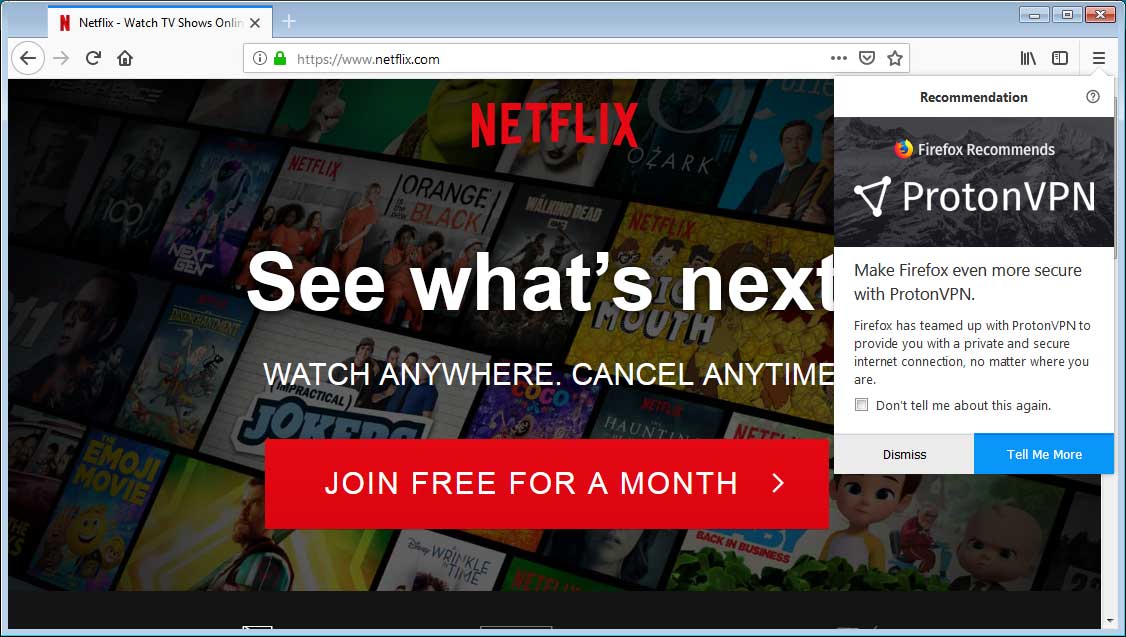 If you visit a insecure wireless gateway, such as a hotel portal, you will be shown a slightly different message of « It appears you are browsing on an unsecured wireless network » in the ProtonVPN recommendation.
You can see the full list of messages that are shown to various site categories below.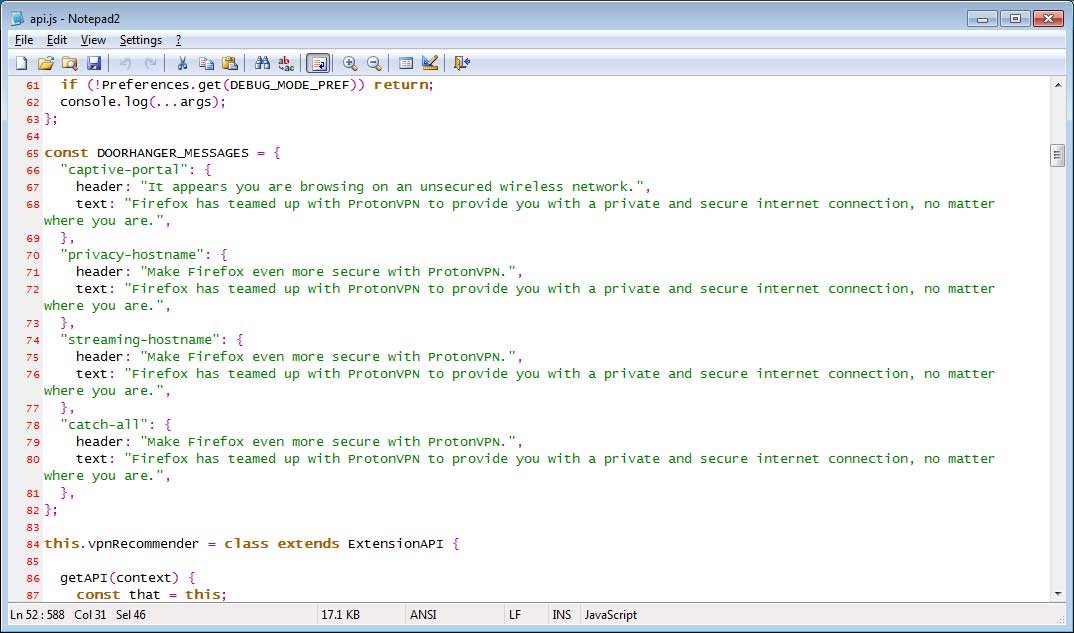 If a user clicks on the Dismiss button, the recommendation will not be shown for some time, so users will not be spammed with recommendations.
If a user clicks on the « Tell Me More » button, they will be brought to https://premium.firefox.com/vpn/, where they will see information about the offer. That page is not live yet, but you can see the development version at https://dev.psvpn.nonprod.cloudops.mozgcp.net/.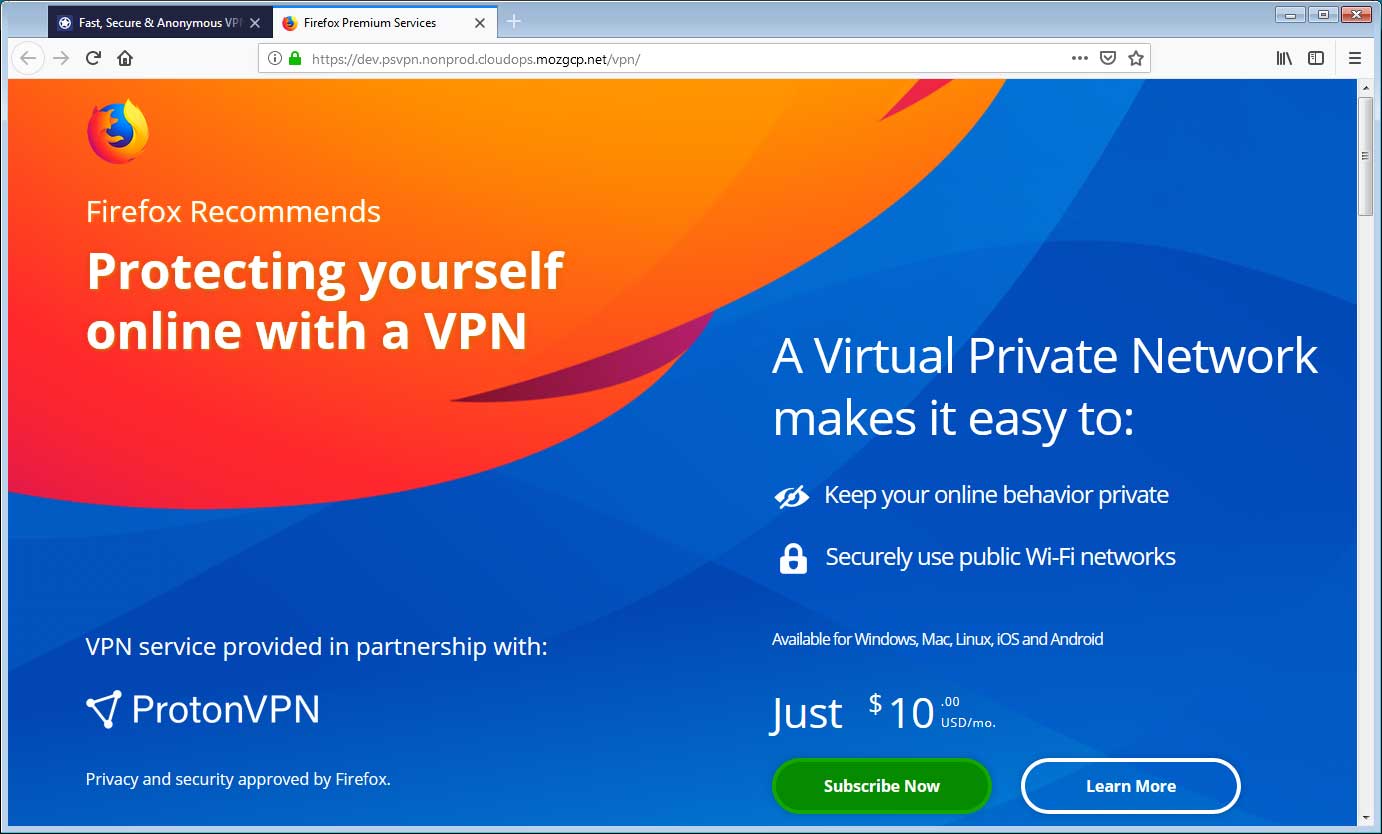 If you click the « Subscribe Now » button you will be shown a form asking you to enter your credit card information in order to sign up for the $10/month service.  This service has the same features as the ProtonVPN Plus subscription.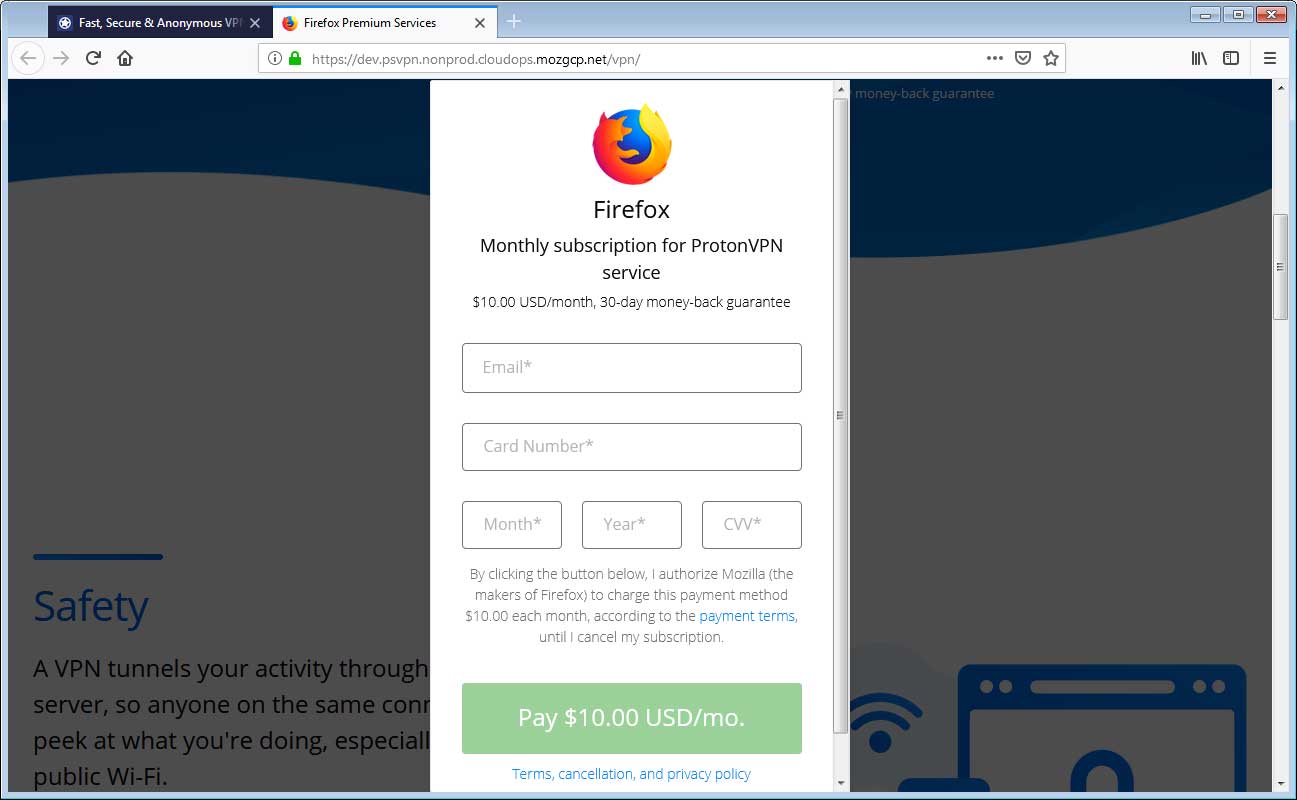 After the study has finished, the subjects will be asked to fill out the survey located at https://qsurvey.mozilla.com/s3/VPN-Post-Shield-Survey?reason=expired.
While it is important for Mozilla to diversify its revenue streams, by targeting competing VPN providers and streaming services users may be turned off by this promotion. It may be better to come up with a different way of targeting the recommendations as to not seem like an aggressive marketing tactic.
Update 10/23/18: Mozilla provided the following statement regarding the new ProtonVPN offering:
« The in-product experimentation platform (Shield) that powers this Premium Service study has four conditions that the VPN recommendation is made to a random sample of <1% of our Firefox desktop users in the United States.
The four conditions:
Connecting to an unsecured wifi network with a captive portal
Visiting websites of select streaming media providers
Visiting websites of select VPN service providers
Random sample
We don't want to be intrusive. We want every recommendation we make to feel like it is adding value, not just competing for your eyes. That's why we are testing these different contextual moments to understand where we can provide the most value. These insights will help with future Premium Services product strategy. »
To read the original article: http://www.ehackingnews.com/2018/10/mcafee-tech-support-scam-stealing.html?utm_source=dlvr.it&utm_medium=twitter