Adobe announced yesterday plans to buy the Magento e-commerce platform for $1.68 billion.
While the Magento brand is mostly known for the open source online store CMS of the same name, Adobe was mostly interested in Magento Commerce, an online-store-as-a-service platform.
Adobe plans to embed the Magento Commerce platform into the Adobe Experience Cloud offering, allowing it to compete with similar B2B and B2C store-building services provided by Shopify, Oracle, and Salesforce.
The transaction is expected to complete by the end of Q3 2018. Development on the open source platform will continue as before.
Adobe is already a few steps behind its competition
Before the acquisition, Magento boasted of having a community of over 300,000 developers, but BuiltWith market share shows that Shopify has a larger install base.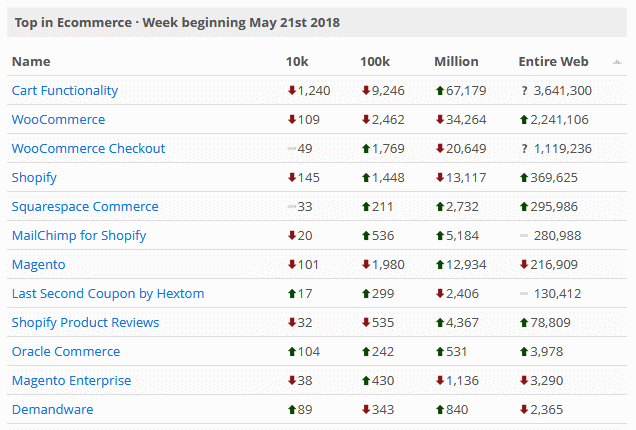 Most of Magento's userbase comes from its self-hosted open-source platform (Magento in the graph) and not its cloud-based platform (Magento Commerce). Oracle's Commerce platform is ranked above, while Salesforce's Demandware is just under Magento Commerce.
Shopify's larger install base is due to its longer life on the market for cloud-hosted online stores. Shopify launched in 2004. On the other hand, Magento has only been on the e-commerce cloud market for only two years.
History of Magento
Magento was initially released as an open-source product in 2008, under the development of Varien, Inc. The company released an on-premises commercial edition with more features and improved support for larger companies, under the name of Magento Enterprise Edition. Magento devs didn't release a cloud-based platform until April 2016.
The names of these three products are Magento Open-Source (previously Community Edition), Magento Enterprise Edition (on-premise offering, now discontinued), and Magento Commerce (the cloud-based product, previously Magento Enterprise Cloud Edition).
During this time, Magento also changed hands a few times. eBay bought a 49% stake in Varien in 2010, and later a majority stake in 2011. eBay then spun off Magento into its own company in 2015, under the tutelage of the Permira equity fund for an initial investment of $200 million.
The $1.68 billion price Adobe paid to Permira shows just how much the cloud-based e-commerce market has grown.
The reasons are simple, as larger companies don't need to hire separate developers just to manage incredibly complicated online stores anymore.
Companies can simply let Magento (Adobe) handle the infrastructure, updates, and technical tidbits, while they focus on creating the store using a large list of built-in themes and plugins, and then keep it stocked with products. For these reasons, most analysts see the market of cloud-hosted online stores going up in the coming years.
To read the original article:
https://www.bleepingcomputer.com/news/business/adobe-to-acquire-magento-e-commerce-platform-for-168-billion/